tech stuff
|
tech stuff

web stuff
open guides
survival stuff
audio stuff
cable stuff
protocol stuff
css stuff
Tech Stuff - Mechanical - Head Styles
We have some information on common thread sizes (Inches and Metric).
The following illustrates the most common head styles for fasteners (screws to the rest of us).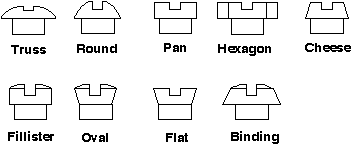 Notes:
The head styles shown above all show a slotted head type. This is entirely due to our modest (being polite) drawing/drafting capabilities. Almost all of the styles can be obtained in one or more of the head types illustrated below.

The flat and oval head styles shown above are both countersunk. That is, when fully tightened they are designed to lie flush with the surface (slightly protruding in the case of oval). Countersunk angles can vary widely with 90° being normal for metric and Imperial measures and 82° for UNC/UNF though as always multiple variants can, and do, exist.

Most head styles are available in a wide variety of metallic materials (steel, aluminum, brass, titanium etc.) as well as synthetic (non-ferrous) materials, such as, nylon (and other polyamides).
Head Types
The following illustrates the most common head types for fasteners (tells you the type of screwdriver you need).

The head type Square above may also be known as Robertson after the inventor. (Thanks to Mark Snyder for the heads-up.) The Pozidrive (European) is subtly different from the Phillips head as anyone who has ever used a Pozidrive screwdriver on a Phillips screw can testify! (Thanks to Andy Lyke.)
---

Problems, comments, suggestions, corrections (including broken links) or something to add? Please take the time from a busy life to 'mail us' (at top of screen), the webmaster (below) or info-support at zytrax. You will have a warm inner glow for the rest of the day.
Tech Stuff

If you are happy it's OK - but your browser is giving a less than optimal experience on our site. You could, at no charge, upgrade to a W3C standards compliant browser such as Firefox
Search


Page
Standards
ISO (International)
IEC (International)
ANSI (US)
DIN (Germany)
ETSI (EU)
BSI (UK)
AFNOR (France)

Telecom
TIA (US)
ECIA (US)
ITU (International)
IEEE (US)
ETSI (EU)
OFCOM (UK)

Internet
Electronics
Site